Joe Cordina Scrapes a Majority Decision Win Against Edward Vazquez
In a tightly fought main event tonight in Casino De Monte-Carlo, Joe Cordina emerged victorious by majority decision after a gruelling twelve rounds that left fans on the edge of their seats. The contest saw Cordina pitted against a determined challenger in the Texas native, Edward Vazquez.
The loser, Edward Vasquez didnt appear happy with the decision immediately after in the ring where Joe Cordina and Edward Vazquez exchanged heated words with one another.
Joe Cordina Narrowly Beats Edward Vazquez
Joe Cordina commented: He's better than I thought. You can't win a fight like that. Look at my face and look at his face, I've not got a mark on me. I'm happy. I got a win against a good fighter with a bad performance."
In the post fight interview in the ring, Edward Vazquez said: "You know what, I have strong faith, God put me here for a reason. There's no coincidences. I'll be back. Everyone watching knows I won. They did it to me again. You know what it is, I'll be back. He wasn't able to do anything he wanted to do the entire fight. He had no power. This guy's got no power. This is probably his lost fight at 130lb."
Joe Cordina responded: "If you can't beat me at my worst, then you've got no chance."
The judges' scorecards reflected the competitive nature of the fight, with one judge scoring the bout a draw, illustrating how closely matched the two fighters were on the night. Cordina's victory was not without its trials as the fight saw multiple shifts in momentum.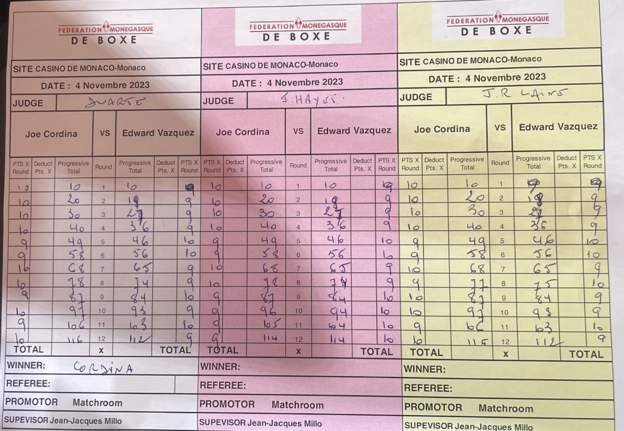 The first round began with caution from both fighters, with Cordina appearing to edge out his opponent slightly. As the fight progressed, the rounds were marked by an intense give-and-take between the two combatants. Vazquez's strategy focused on staying close, utilizing quick combinations to break through Cordina's defenses, while Cordina employed his jab to maintain distance and seek counter-attacking opportunities.
By the sixth round, Cordina began pushing forward more assertively, using his jab effectively to create openings. Despite these efforts, Vazquez showed resilience, continually advancing and looking for body shots.
The tide seemed to turn in the seventh round, which was arguably Cordina's best. The champion displayed heightened aggression and ring control, effectively countering Vazquez's advances. This round raised the question: was this the moment Cordina took over the fight?
Vazquez did not let this shift in momentum go unchallenged, bouncing back in the eighth and ninth rounds, landing more shots and seemingly well-prepared for Cordina's tactics. The tenth round saw Cordina find some success at mid-range, but the overall back-and-forth nature of the fight persisted.
The eleventh round was vital for Vazquez, who was broadcast as the clear winner of that three-minute exchange. This set the stage for a 'massive' final round, with everything still to fight for.
The twelfth and final round did not disappoint, with both fighters leaving everything in the ring in an attempt to sway the judges' decision in their favor. The spirited exchange culminated in a majority decision win for Cordina, who managed to retain his position despite the vigorous challenge posed by Vazquez.
With this victory, Joe Cordina has solidified his standing, but the razor-thin margin by which he secured the win leaves the door open for a potential rematch.
By NoSmokeSport
Also, read Update On Francis Ngannou, Potential Anthony Joshua Fight