Idris Virgo Deleted A Tweet Seemingly Calling Out Joe Calzaghe
Idris Virgo, a professional boxer who gained popularity after appearing on the reality TV show Love Island, recently raised eyebrows when he appeared to call out former world champion and boxing legend, Joe Calzaghe in a tweet. This came after Virgo's participation in a recent Misfits boxing card, where he showcased his boxing skills.
While Virgo's appearance on Love Island helped him gain a significant following on social media, some fans have expressed disappointment that he is not putting more focus on his professional boxing career. The now-deleted tweet may only added to the criticism. Here's the Tweet: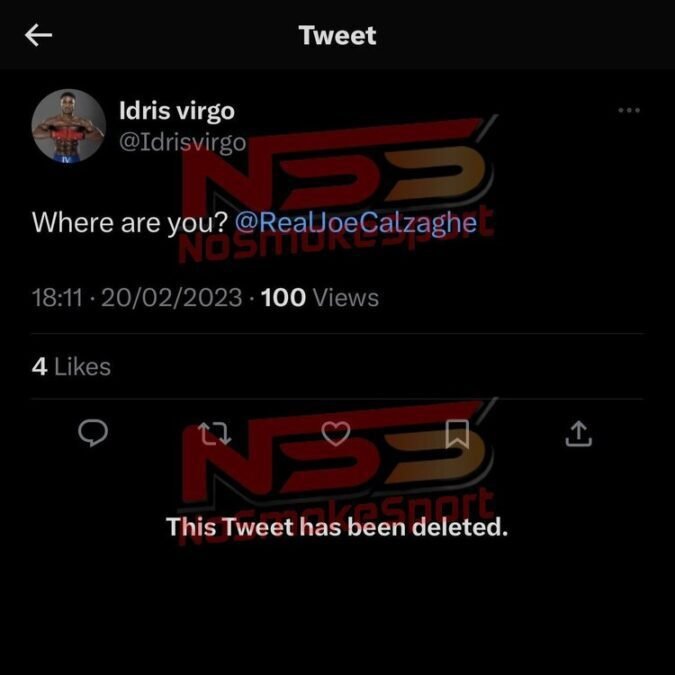 Despite facing criticism for his participation in Misfits boxing instead of focusing solely on his professional boxing career, Idris Virgo has been a professional boxer since his debut in March 2018. With a current record of 12-0-1, he is determined to make a name for himself both inside and outside of the ring.
Was Idris Virgo Calling Out Joe Calzaghe?
It appears to some that noticed the Tweet, that Virgo may have been influenced by Jake Paul calling out Carl Froch
While Virgo's journey in the sport has been bumpy, he is just one of many boxers who have attempted to balance reality TV and boxing. Most notably Tommy Fury follows a similar path in the sport.
But, what will boxing fans make of Idris Virgo calling out a national treasure such as Joe Calzaghe?
By NoSmokeSport
Also, read: Savannah Marshall Admits Peter Fury Got The Tactics Wrong In Claressa Shields Fight, Believes She Can Outbox Shields