"I Want Savannah Marshall Next", Mandatory Challenger Shadasia Green REFUSES To Entertain Step-A-Side
Savannah Marshall Beat Franchon Crews-Dezurn To Win The Undisputed Title
Shadasia Green Is Mandatory For Multiple Belts, With The WBC Mandatory Called
A Claressa Shields-Marshall Rematch Has Been Mentioned, Green Will NOT Step-A-Side
Earlier this month, Savannah Marshall outpointed Franchon Crews-Dezurn to win the undisputed super middleweight title in their Sky Sports headliner from Manchester.
American rival Claressa Shields was ringside with plans for Shields and Marshall to rematch for four 168-pound belts later this year.
Shields convincgly beat Marshall in their first encounter last October but the with the limited depth at 160 and 168, the rematch is the biggest money fight for both.
Marshall-Crews Dezurn almost didn't happen as the WBC ordered unbeaten power-punching American Shadasia Green to face Crews-Dezurn.
The WBC chose to rescind that order on the condition that the winner faces Green, and now they have ordered just that.
The WBC notified the promoters of Marshall (BOXXER) and Green (MVP) on Monday that they have until September 1 to reach an agreement for their mandatory bout or purse bids will be called.
"Please note that Shadasia Green will have a tune-up bout on August 5th, which has been approved by the WBC," the WBC wrote in the letter, obtained by Dan Rafael. "The order will be invalid in case Green loses that bout. We hereby kindly ask you to start free negotations to find an agreement regarding the conditions (date, place, purses, etc.) for this important fight on August 6th, following Green's tune-up bout.
NoSmokeSport caught up with Shadasia Green to discuss her August 5th fight and the potential Savannah Marshall bout.
Shadasia Green On Her Next Fight And Savannah Marshall Shot
Green is represented by Jake Paul's Most Valuable Promotions who famously co-promoted the historic April 30 fight of the year between Katie Taylor and Amanda Serrano – a fight that any women's boxing event will find near-impossible to beat from the build-up and 'hype' to the atmosphere, big event feel culminating in a legitimate fight of the year pick.
"Jake Paul is doing amazing things for women's boxing", Shadasia Green told NoSmokeSport, "(MVP) are getting me on these huge platforms, working extremely hard behind the scenes to make sure that I flourish."
"I did her watch (Marshall's) performance. I'm happy that she gets her glory, she's a super middleweight Undisputed world champion which puts her in my eye sights because that's what I've been training for my whole life."
"I think I'll get the title shot next. But I can't overlook Olivia Curry, she's a phenomenal fighter. I have to dominate in that fight before I can move on to Savannah."
Before Green can focus on her mandatory title fight with Marshall, she must get past Olivia Curry (7-1) on the Jake Paul-Nate Diaz card on August 5, live on DAZN PPV.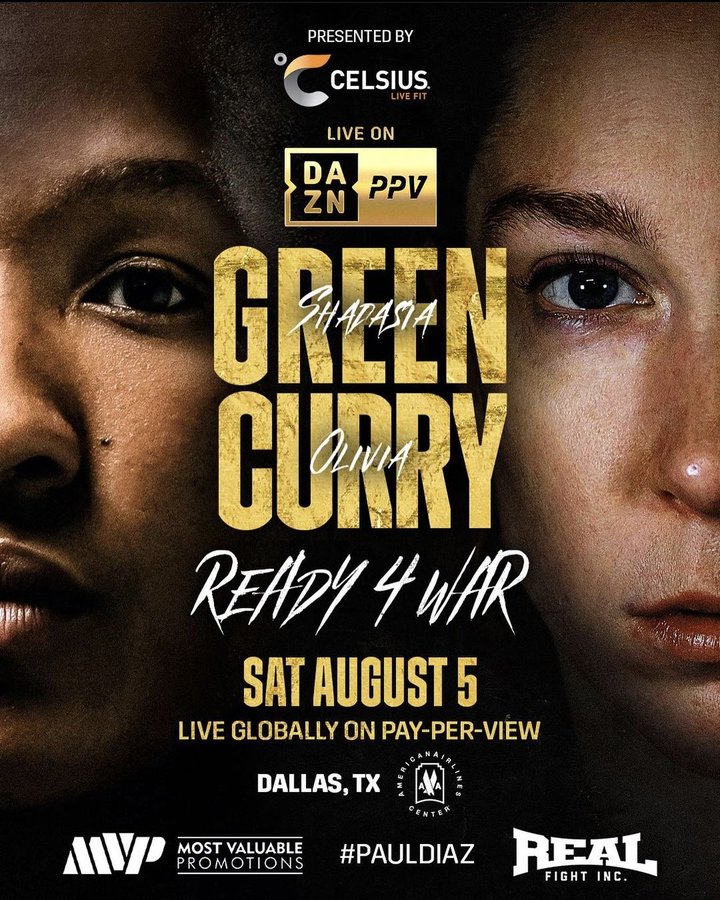 "But most certainly Savannah Marshall is on the calendar." Green made it clear that Marshall is her target after that.
Rumours were circulating that BOXXER/Sky Sports would attempt to make the Shields-Marshall rematch next but Green clarified that if that were to happen, it certainly wouldn't be for the WBC world title.
(Would you entertain step-a-side?) "Definitely wouldn't entertain it. Claressa Shields was already victorious when fighting Savannah Marshall."
MVP have also stated that Green is mandatory for three different titles and they will be enforcing that if they can.
"I'm the #1 in most of the sanctioning bodies to fight next, so I wouldn't be willing to step a side, I feel I've stepped a side enough. I want Savannah Marshall next"
"A stoppage is possible", Green told NSS, "I believe more in my skills, my talent and my IQ. I don't rely on my power."
Green is a big puncher at 168 and most of the people in boxing would have her as the favourite to beat Marshall; potentially by stoppage.
(Will you come to the UK?) "Absolutely she's the champion. I believe they'll end up loving me at the end of the night, even after I'm victorious."
Green was enthusiastic about travelling to the UK and essentially preferred the idea of dethroning Marshall in her backyard.
"All I know is that I'll be victorious at the end of the 10 rounds. I'll see you later friend." Green's final message to Marshall.
Image Credit: Esther Lin/Showtime
Also Read; "I Ain't Getting Paid Enough For A Hard Fight", Cordina Reveals Why A Fight With Barrett Won't Happen Next